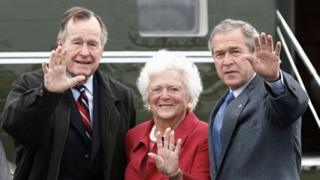 US President Donald Trump will not attend the funeral of former first lady Barbara Bush on Saturday.
The White House said Mr Trump was missing the event "to avoid disruptions due to added security, and out of respect for the Bush Family".
Melania Trump will however go to the funeral "on behalf of the First Family", according to the statement.
The former first lady's coffin is being kept at St Martin's Episcopal Church in Houston, Texas.
President Trump called Mrs Bush a "wonderful, wonderful person" at a news conference on Wednesday.
"She was a woman of proud patriotism and profound faith," Mr Trump said at his Mar-a-Lago resort.
Donald Trump has had a difficult relationship with the Bush family, most significantly in his run against Jeb Bush for the Republican presidential nomination in 2016.
Both former Bush presidents have clashed with the president.
In a book titled The Last Republicans, Bush Snr labelled Mr Trump a "blowhard", while Bush Jnr said: "This guy doesn't know what it means to be president."
Trump's feud with the Bushes
Anthony Zurcher, BBC senior North America Reporter
Donald Trump is skipping Barbara Bush's funeral because he respects the storied Republican political family too much.
And if you believe that one, I've got some "Jeb for President" t-shirts to sell you.
Mr Trump's feud with the Bush family isn't exactly a secret. He has sharply criticised George W Bush's presidency and, during the 2016 Republican primaries, he relentlessly mocked and belittled "low energy" Jeb.
That prompted some sharp-tongued replies from the Bush family, including from Barbara, who called Mr Trump a "showman" and wondered how women could vote for him.
Of course, then-President Barack Obama didn't attend the funerals of Republican first ladies Nancy Reagan and Betty Ford. Neither did George W Bush attend the 2007 memorial services for Democrat Lady Bird Johnson. But Mr Trump and the Bushes are in the same party – and a presidential gesture here could have soothed some raw wounds for Republicans that remain from the tumultuous 2016 campaign.
Instead, Mr Trump will spend the weekend at his resort in Florida.
Aside from her husband and son, other former presidents Bill Clinton and Barack Obama will be at Saturday's service.
Former first ladies Hillary Clinton, Laura Bush and Michelle Obama will also attend.
However, former President Jimmy Carter is overseas and cannot attend, while his wife Rosalynn is recovering from surgery.
"[Barbara Bush] touched the hearts of millions with her warmth, generosity, and keen wit," a statement from the Carter Center reads. "She will be missed".
Tributes for Mrs Bush have poured in from across the globe, with many praising her work in adult literacy but there have also been negative reactions.
An English professor at California State University Fresno, Randa Jarrar, provoked outrage after a tweet calling Mrs Bush an "amazing racist" who "raised a war criminal".
Ms Jarrar's social media accounts have now been made private.
The university's president, Joseph Castro, is considering disciplinary action.
However, a staff attorney for the American Civil Liberties Union, Abre Connor, said the professor's post was protected by the First Amendment, which defends freedom of speech.
Barbara Bush funeral: Donald Trump not attending 'out of respect'