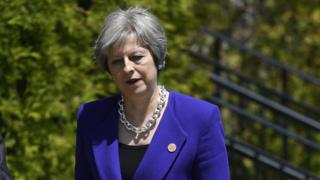 Theresa May has said the government's detailed plans for Brexit will not be published before the next EU summit.
The government has said its white paper will set out "detailed, ambitious and precise explanations" of its position and many expected it to be published ahead of the summit at the end of June.
But Mrs May said the cabinet would meet to finalise it after she returned from the European Council meeting.
It comes after Boris Johnson said the UK's Brexit strategy lacks "guts".
Speaking at the G7 summit in Canada, Mrs May said: "There's going to be a lot of activity in the negotiations over the coming weeks.
"I'll be going to the June European Council where we'll be talking about finalising withdrawal agreement, but also pressing on the future relationship.
After that, I'll be bringing my ministers together for an away day at Chequers to finalise the white paper we're going to be publishing.
"And then before parliament breaks for the summer, we'll be bringing the Trade and Customs Bill back to the House of Commons.
"Throughout all of that time, the negotiations will be continuing."
'Locked in orbit'
At a private dinner on Wednesday, Mr Johnson was recorded suggesting Donald Trump could do a better job of negotiating Brexit.
He also took a swipe at Chancellor Philip Hammond, calling the Treasury "the heart of Remain".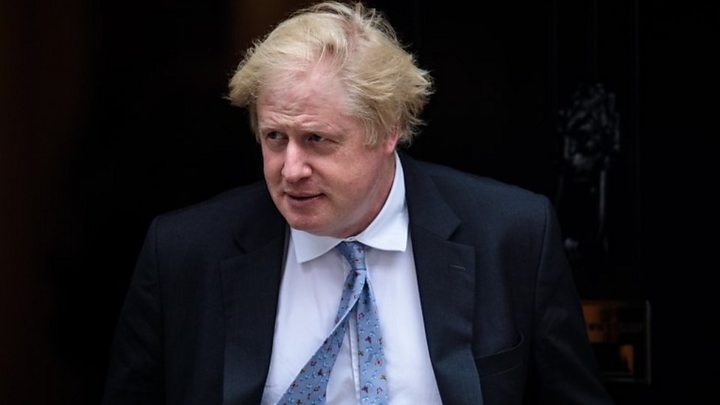 In a recording, obtained by Buzzfeed, Mr Johnson warns the UK could remain "locked in orbit around the EU" and claimed the Irish border issue – one of the main sticking points in talks with Brussels – had been allowed to dictate "the whole of our agenda".
"It's so small and there are so few firms that actually use that border regularly, it's just beyond belief that we're allowing the tail to wag the dog in this way," he said.
On Thursday Mrs May was forced to agree to a cut-off date of December 2021 for any interim arrangements after Brexit Secretary David Davis threatened to resign over the wording of the UK's proposed "backstop" plan for trade with the EU.
The proposal would see the UK match EU trade tariffs temporarily in order to avoid a hard Irish border post-Brexit.
But on Friday EU chief negotiator Michel Barnier criticised Mrs May's proposals for a customs arrangement.
He stressed that he was not rejecting the UK prime minister's ideas – but said any "backstop" to prevent a hard Irish border could not be time-limited.
Mr Barnier said the UK paper "raises more questions than it answers" but would be examined "objectively".
Brexit trade proposals will not be published until after EU summit}