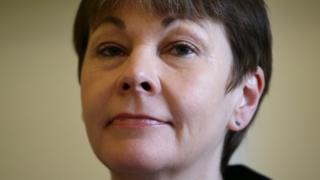 Caroline Lucas is to step down as the co-leader of the Green Party of England and Wales in September.
The party's first and only MP – for Brighton Pavillion – has shared the role with Jonathan Bartley since 2016.
In an article for the Guardian, Ms Lucas said Greens "must always be an insurgent force for good, consistently asking the big questions that matter".
She said a new leadership team "will step up to the challenge that our increasingly febrile times present".
Ms Lucas, 57, said she would be "focusing even more" on her work in Parliament and in her constituency.
She took Brighton Pavilion from Labour in the 2010 general election.
"I believe that Jonathan and I have shown the power of working together, since we became joint Green Party leaders in September 2016, and it's now time for me to show the power of letting go," she wrote.
Ms Lucas said the party's structures had been updated in the last two years, which was one of the co-leaders' priorities in 2016.
She added that the Green Party must consistent ask "the big questions that matter… and give the people of this country the bold alternative that is so desperately needed".
'Electoral force'
In 2007, the Greens moved away from their longstanding tradition of having two principal speakers in favour of electing a leader every two years.
A former MEP, Ms Lucas won leadership elections in 2008 and 2010 but decided against standing in 2012, when she was succeeded by Natalie Bennett who served until 2016.
Mr Bartley, elected as a councillor in May, has yet say whether he will stand again.
The party's share of the vote dropped by 2% at the 2017 general election, but it won 39 council seats – an increase of eight – in May's local elections in England.
Speaking at the time, Ms Lucas said: "The Green Party has taken a significant step forward with just a fraction of the resources of the bigger parties. We are now established as one of the four major English parties – and an electoral force right across the nation."
Caroline Lucas to step down as Green Party co-leader}