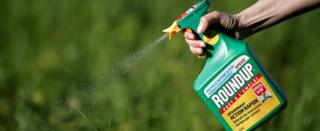 An environment minister who sparked a Twitter storm by "promoting" a controversial weedkiller has defended her action.
Suffolk Coastal MP Therese Coffey tweeted: "Getting ready to deploy the amazing Roundup!" on 12 August.
The day before, a US jury found that chemical giant Monsanta knew its Roundup weedkiller was dangerous and failed to warn consumers.
Many Twitter users criticised her tweet, but she was unrepentant.
She later tweeted: "Like a lot of chemicals and pesticides, you handle appropriately to manage the risk. Just like you do with bleach and other household chemicals. Roundup is just the same."
Ms Coffey told BBC Radio Suffolk: "I think it is important we take a sensible approach to these matters.
"We would not allow them to be sold in this country if they were not safe."
She said she decided to tweet because it was "good to support the science".
Ms Coffey's original tweet provoked a number of critical responses and the confused response of "Er…" from fellow Suffolk MP Ben Gummer, son of former Environment Secretary John Gummer.
Scientist Dr David Coombes called the tweet a "candidate for most inappropriate tweet of the year".
Nick Rau, a campaigner with environment group Friends of the Earth, told the BBC: "As she is under-secretary of state at Defra, it's disappointing to see Therese Coffey rush to defend Roundup, a weedkiller containing glyphosate.
"Government policy should be determined by science and a more cautious approach from someone so senior."
In California Monsanto was ordered to pay $289m (£226m) damages to a man who claimed herbicides containing glyphosate had caused his cancer.
It was the first lawsuit to go to trial alleging a glyphosate link to cancer.
Monsanto denies that glyphosate causes cancer, and says it intends to appeal against the ruling.
Environment minister Therese Coffey defends Roundup weedkiller tweet}