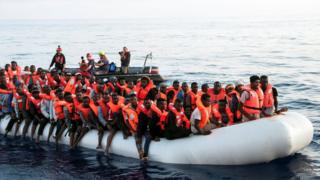 The European zone of border-free travel could be in danger if no solution is found to the issue of migration, Italy's prime minister has warned.
At an informal meeting of 16 EU leaders in Brussels, Giuseppe Conte called for shared EU responsibility for rescued migrants and penalties for countries refusing to accept quotas.
The meeting comes ahead of a full EU summit on migration next week.
In recent days, Italy has refused to accept two migrant rescue ships.
In a document presented at the talks, Mr Conte advocated for migrant "protection centres" to be established in other EU countries to relieve the burden on Italy, which has received over 600,000 migrants over the past four years.
"Whoever lands in Italy lands in Europe…. Schengen is at risk," the document said. The Schengen zone of passport-free travel covers most of the EU and some other European countries.
Italy's new populist coalition government, which was formed earlier this month, has taken a hard line on migration and says it wants to deport half a million undocumented migrants.
Last week it refused to accept 630 migrants aboard the charity rescue ship Aquarius, which was eventually diverted to Spain. Another vessel, Lifeline, is now stranded with around 230 people on board after both Italy and Malta denied it permission to dock.
Sunday's meeting was called for by German Chancellor Angela Merkel, who indicated that bilateral and trilateral agreements could be necessary if next week's summit fails to reach an EU-wide agreement.
She also urged a shared response to the issue of illegal migration, saying: "Everybody is responsible for everything. Wherever possible, we want European solutions. Where this is not possible, we want to bring together those who are willing and find a common framework for action."
Europe migrants: Italy warns Schengen is 'at risk'