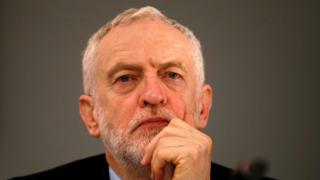 Labour leader Jeremy Corbyn is facing opposition from Jewish organisations over plans to deliver a speech at a Jewish venue, the BBC understands.
Labour had approached the Jewish Museum, in London, to ask if Mr Corbyn could speak there on Friday.
Officials at the museum have turned down the request, but talks are said to be continuing about an event next week.
The museum said it was "interested in being a space that would facilitate genuine healing dialogue" with Labour.
A statement from the museum said: "We seek to represent the entire Jewish community and welcome people from all backgrounds. We work to break down barriers."
The BBC understands the museum is seeking clarification and reassurances about the nature of Mr Corbyn's speech.
It also wants to ensure leading Jewish organisations are consulted and invited to the event and also to make sure that Mr Corbyn addresses specific concerns about Labour's code of conduct.
The document is currently at the centre of an ongoing row about the party's handling of anti-Semitism allegations.
Sources have expressed concern that Mr Corbyn's planned speech could further damage relations between him and the Jewish community.
Another source, at a leading Jewish organisation, expressed their strong opposition to the speech, dismissing it as a "stunt".
They say Mr Corbyn has refused requests for a meeting and has not consulted them as promised in the wake of the row over the code of conduct.
Jeremy Corbyn hoping to deliver speech at Jewish venue}