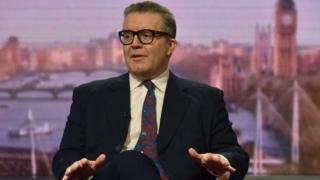 Labour's Tom Watson says Unite trade union leader Len McCluskey is trying "to take me out as deputy leader".
He told the BBC's Nick Robinson the union chief was "coming for me" – but he was not going to be "bullied" out of his job.
He said he wanted to "bring everyone back together" in the party.
Mr McCluskey has previously accused Mr Watson of behaving like a "low-budget remake of the Godfather" over claims of a hard left plot to take over Labour.
His office declined to comment on Mr Watson's latest claims.
The two men were once close friends and even shared a flat together – but Mr Watson said they fell out in September 2016 when Jeremy Corbyn was unsuccessfully challenged for the party leadership by Owen Smith.
Speaking to Nick Robinson's Political Thinking podcast, Mr Watson said: "It is very difficult that, because we were friends socially as well as understood each other politically.
"Sadly, we fell out over that week when Jeremy went into the second leadership election, and I've not spoken to him since that week."
Unite is Labour's largest and most powerful trade union affiliate and biggest donor.
Mr Watson, who was elected deputy leader of the party at the same time Mr Corbyn became leader in September 2015, is thought to have come under pressure to denounce Labour MPs who had backed a vote of no confidence in Mr Corbyn.
"I felt very difficult there, because Unite funded my campaign, they didn't nominate me, and I think he felt that I, in some way, was obligated to him personally.
"And my obligation was to the Labour Party. You may severely criticise me for taking the wrong position, and that's fair, but I'm not going to be bullied by Len McCluskey.
"I certainly wasn't going to be bullied by Rupert Murdoch, so I'm definitely not going to be bullied by Len McCluskey. And I think he found that very difficult."
The MP, who fought a long-running battle with Mr Murdoch's newspaper group over phone hacking, said he felt he was being persecuted by Mr McCluskey.
"Yes, he is coming for me. They're upping their delegates and all of that," he said.
"What will be, will be. He's powerful enough, if he wants to take me out as deputy leader, he probably could, but that's up to him. I'm just going to get on and try and bring everyone back together and do what I can as best I can."
There is no formal mechanism for removing the Labour Party deputy leader.
But Mr Watson is understood to be concerned that Unite is engaged in a takeover of the party, with the appointment of Unite officials to key roles, such as new general secretary Jennie Formby and Mr McCluskey's chief of staff, Andrew Murray, who has been seconded to the leader's office.
Karie Murphy, who was Unite's favoured candidate in the 2013 selection row ahead of the Falkirk by-election, is Mr Corbyn's chief of staff, while Amy Jackson, a former Unite official, is his political secretary.
Mr Watson has also clashed with Mr McCluskey over the union leader's support for the pro-Corbyn pressure group Momentum and efforts by local party activists to de-select some Labour MPs.
Mr McCluskey has spoken of his sadness at the demise of his friendship with Mr Watson, but has also accused him of taking part in "a stupid and rather sinister coup" to get rid of Mr Corbyn.
In September last year, he called for a female deputy leader to be brought in to work alongside Mr Watson.
Len McCluskey's coming for me, says Tom Watson}