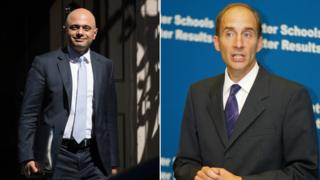 Labour peer Lord Adonis has apologised for tweeting a cartoon which appears to mock the new home secretary.
In the tweet, which has since been deleted, a figure purporting to be Sajid Javid is seen at his desk, with the caption: "I just want to settle in, get organised, then deport my parents!"
He responded directly to the former education minister, Lord Adonis, saying "you're better than this".
Lord Adonis then apologised to Mr Javid for the "poor taste" cartoon.
"Sajid, on reflection I think the cartoon is too personal and in poor taste. I have deleted it. I am sorry," Lord Adonis wrote.
Mr Javid took over from Amber Rudd, who resigned last Sunday in a row over targets for deporting illegal immigrants.
Quoting the original tweet containing the cartoon, Mr Javid said: "Not like you Andrew Adonis, you're better than this".
Lord Adonis apologises for Sajid Javid cartoon tweet}