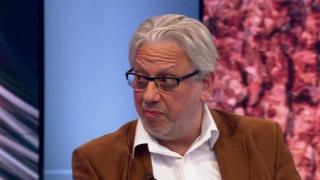 A future Labour government should prepare for resistance from global corporations and could face a run on the pound, Momentum's founder says.
Jon Lansman, who heads the Jeremy Corbyn support movement, said global elites would resist the "significant transformation" planned by Labour.
And he said he hoped that it would not lead to the devaluation of sterling.
He was speaking to BBC Radio 4 programme Long March of Corbyn's Labour to be broadcast on Monday.
Momentum chief quits Labour race
"We want to make a significant transformation. We want decisions which affect jobs and livelihoods democratised. The global corporations will resist," said the veteran left-wing activist.
"Other governments have faced challenges like runs on the pound. And we may face similar things. I hope we don't.
"The people who are opposed to what we want to do have one thing in their favour – money. We have people. We need the power of people to overcome the power of money."
Shadow chancellor John McDonnell raised a similar prospect at a fringe meeting at Labour's conference last year – but clarified that he was planning for a number of scenarios, and didn't think this would happen.
In the same programme, shadow communities secretary and joint election co-ordinator Andrew Gwynne strikes a different tone.
He says he has had "sleepless nights" worrying whether local councils will be able to deliver some of "the big ticket" items in Labour's manifesto – such as the pledge to deliver a million more homes over 10 years.
And he warns, in an extract of the interview to be broadcast on Saturday on BBC Radio 4's Today programme, that a Labour government that disappoints its new members could "fall at the first hurdle".
"Some things are going to take time and we need to communicate that now in opposition.
"If we come to power on the back of massive optimism, a new way of doing things, and we fall at the first hurdle then it will be very difficult to recover.
"We need a clear plan."
The Long March of Corbyn's Labour can be heard on Monday evening at 2000 BST on Radio 4, repeated on Wednesday, 27 June at 2300 BST.
Momentum chief Jon Lansman's 'run on pound' fear}