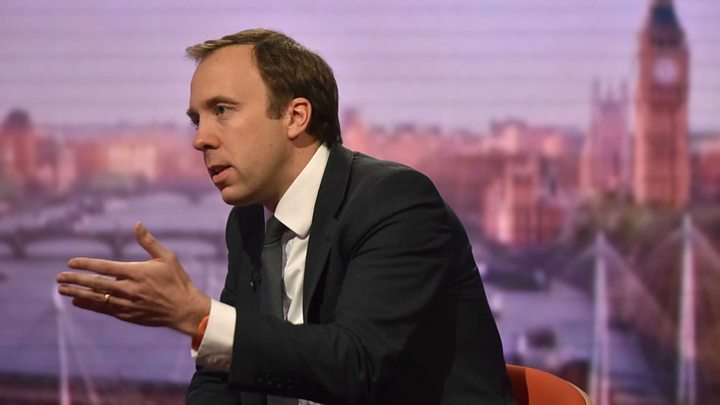 The culture secretary has agreed he does not have enough power to police social media firms after admitting only four of 14 invited to talks showed up.
Matt Hancock told the BBC it had given him "a big impetus" to introduce new laws to tackle what he has called the internet's "Wild West" culture.
He admitted self-policing had not worked and legislation was needed.
But he did not answer questions about what it would take for companies to be hit with huge fines.
He told BBC One's Andrew Marr show, presented by Emma Barnett, that the government "just don't know" how many children of the millions using using social media were not old enough for an account and he was "very worried" about age verification.
He said that as part of the Data Protection Bill currently going through Parliament, firms could be fined up to 4% of their global turnover – which could run to more than £1bn for the biggest firms.
Asked what the threshold would be for firms to be hit with fines, in terms of underage children on certain platforms, he said: "I'm not going to give a figure because we are going to consult on it."
He told the programme he "hopes we get to a position" where all users of social media users has to have their age verified.
Code of conducts would be examined he said as existing "terms of reference" were often not enforced properly. Asked how many of the 14 firms invited to attend government talks had showed up, he replied: "Four."
Analysis
By BBC political correspondent Jonathan Blake
Governments love to talk tough, but sooner or later they have to back it up with action.
The culture secretary has admitted that calling on technology companies to "step up" and "do more" has only got ministers so far.
But efforts to regulate the internet have had limited success.
A plan to introduce age verification for all porn sites was due to come into force in April, but has been delayed with no details given about how it might work.
An "opt in" system where internet service providers ask people if they want to access adult content has seen sex education and suicide prevention advice inadvertently blocked.
A new law in Germany forcing social networks to remove hate speech within 24 hours is being revised after complaints that too much content was being blocked.
Two government departments are working on the new laws aimed at holding technology companies to account.
They have a difficult, if not impossible, task.
He said: "One of the problems we have got is that we engage with Facebook, Google and Twitter and they get all of the press, they get all of the complaints in the public debate but there's now actually a far greater number of social media platforms like musical.ly.
"They didn't show up and the companies, they have now got over a million on their site."
He said that this, and the difficulties getting Facebook's Mark Zuckerberg to answer MPs' questions showed Britain did not have the power needed: "That's one of the reasons we are legislating.
"The fact that only four companies turned up when I invited the 14 biggest in gave me a big impetus to drive this proposal to legislate through."
Pushed for details of how quickly social media firms would have to remove terrorist content to avoid a fine, he said: "We should be very ambitious," but said a set timescale could mean companies "work up to that timescale", while he would prefer them to do so "as quickly as possible".
Children's safety
According to a consultation carried out last year, following the Internet Safety Green Paper, four out of 10 people had experienced abuse online and 60% had seen inappropriate content.
Two government departments are working on a White Paper expected to be brought forward later this year. Asked about the same issue on ITV's Peston on Sunday, Mr Hancock said the government would be legislating "in the next couple of years" because "we want to get the details right".
Barnardo's chief executive officer Javed Khan urged the government to consider legislation "that ends the era of technology self-regulation and puts children's safety at the heart of the online world".
'Toxifying public debate'
There have been a series of efforts by politicians to curb intimidation and abuse on social media.
In February Theresa May announced a crackdown on the intimidation of political candidates and highlighted the "coarsening and toxifying of our public debate" on social media.
Mr Hancock's predecessor, Karen Bradley, said that Facebook and Twitter could be asked to help fund campaigns against abuse while the European Commission flagged up delays by social networks in preventing and removing hate speech.
Former home secretary Amber Rudd last year accused technology experts of "sneering" at politicians who tried to regulate their industry.
New internet laws pledged as social media firms snub talks}