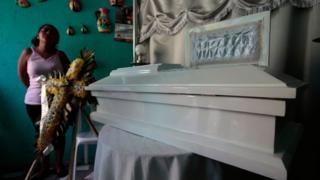 At least four people, including a baby, have been killed in the Nicaraguan capital after security forces opened fire on protesters, activists say.
So-called "combined forces" launched an attack on a student protest at a university in Managua, the Nicaraguan Centre for Human Rights said.
The baby was killed by a police bullet while being taken to a babysitter, his mother said. The government denied it.
More than 200 people have reportedly died in two months of demonstrations.
The protests were triggered by government cuts to pensions and social security announced in April.
Talks between President Daniel Ortega's government and the opposition to resolve the crisis collapsed earlier this week.
Many students have set up protests camps in Managua, including at the National Autonomous University of Nicaragua (UNAN), where hundreds live in tents and use homemade mortars in clashes.
Two people were killed in the campus area on Saturday, according to activists.
The combined forces – made up of police, anti-riot squads, paramilitary groups and pro-government vigilantes – also raided six neighbourhoods in eastern Managua, where the other deaths allegedly occurred.
The government blamed local criminals for the death of the 18-month-old baby. But his mother rejected their story.
"He was killed by a police gunshot. I saw them. They were police. Nobody told me," Karina Navarrete told a news channel.
Nicaraguan bishops have urged the Ortega government and the opposition Civic Alliance to return to the negotiating table on Monday to discuss bringing forward elections scheduled for 2021, in a bid to resolve the crisis.
The barricades were set up weeks ago in cities across Nicaragua by opposition activists, who are demanding that Mr Ortega step down.
The legislation for the government cuts, which has since been revoked, prompted nationwide demonstrations. Many people died in the marches – most of them university students – after a government crackdown.
The opposition now demand the resignation of Mr Ortega, a former Sandinista leader, and his wife, Vice-President Rosario Murillo.
Mr Ortega, who has been in office for 11 years, was democratically elected in 2016 with more than 70% of the vote and says he intends to serve out his term until 2021. The government accuses protesters of wanting to stage a coup.
Nicaragua protests: Baby killed in Managua clashes