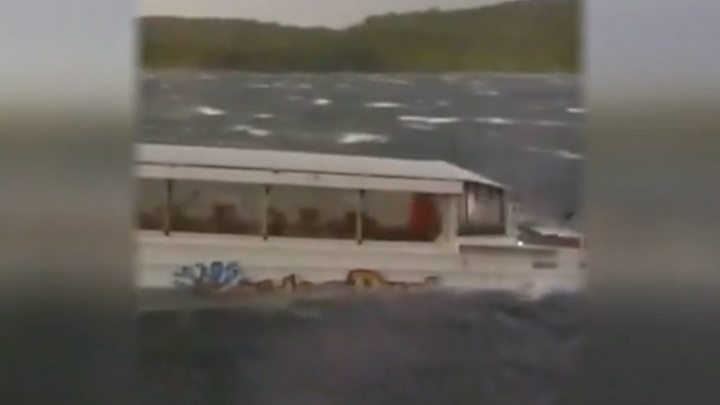 The 17 victims who died when a tour boat sank in a Missouri lake on Thursday included nine members of one family, officials in the US state say.
A surviving relative told US media that the boat's captain had told the 31 passengers not to put on life jackets.
The amphibious "duck boat" capsized during a rapidly deteriorating thunderstorm on Table Rock Lake, a popular tourist attraction.
Missouri Highway Patrol said the ages of the deceased range from one to 70.
The woman who says she lost nine members of her family has been named as Tia Coleman. She is one of two in her family to have survived.
"I lost all my children, I lost my husband, I lost my mother-in-law, I lost my father-in-law, I lost my uncle, I lost my sister-in-law – she was my sister – and I lost my nephew, I'm OK, but this is really hard," she told Fox News.
"The captain told us 'Don't worry about grabbing the life jackets, you won't need them,' so nobody grabbed them because we listened to the captain and he told us to stay seated.
"However in doing that, when it was time to grab them it was too late. I believe that a lot of people could have been spared."
A relative who was not on the boat told WSB-TV that the other member of the family who survived was a boy, the station said in a tweet.
The captain was among those who survived. He is now in a hospital.
How did the accident unfold?
The vessel began taking on water shortly before 19:00 (00:00 GMT) on Thursday.
Video footage shot by a witness on shore showed two duck boats struggling through choppy waters and spray.
One of the boats made it to shore but the other was driven back by the wind and eventually overwhelmed.
Sheriff Doug Rader told reporters he could not say whether passengers were wearing life vests at the time of the capsizing, or if the boat's windows were open.
Missouri law requires all children under the age of seven to wear life jackets on boats, unless they are in the "cabin area".
The vessel sank in 40ft (12m) of water before plunging to a final depth of 80ft.
'Placid' lake
The vessel was on the water after a weather warning was issued. But the owner of the tour boat company, Jim Pattison, said he had been told by employees that the storm had "came out of basically nowhere".
"Usually the lake is very placid and it's not a long tour, they go in and kind of around an island and back. We had other boats in the water earlier and it had been a great, sort of calm experience," he said.
Mr Pattison also said that under Missouri law passengers are not required to wear life jackets.
The accident happened as thunderstorms rolled through the American Midwest, uprooting trees and felling power lines.
At the time of the accident, winds reached around 65mph (104 km/h), according to the National Weather Service.
Are duck boats dangerous?
There are hundreds of so-called duck boats in use around the world. The amphibious vehicles are popular with tourists and have been providing tours for decades.
The most serious incident was in 1999, when a duck boat listed and sank just minutes after entering Lake Hamilton in Arkansas.
Thirteen people were killed, including three children, after they became trapped beneath the vehicle's canopy.
The cause was later reported to be "uncontrolled flooding" due to a loose part.
What is a duck boat?
The sightseeing vehicles are based on a design used during World War Two to transport personnel and supplies over land and water – known as the DUKW.
The DUKW, a six-wheel-drive amphibious truck, was first made in the US in the mid-1940s to deliver people and materials ashore where no port facilities existed.
Some 21,000 DUKWs were produced for use during the war. Many served on D-Day and in the Normandy landings.
Nine US 'duck boat' victims from the same family – governor