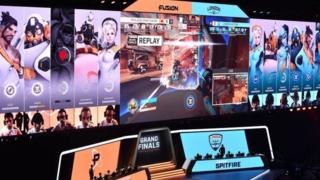 London Spitfire have won the first Overwatch League e-sports championship.
The British team – whose players are all from South Korea – defeated Philadelphia Fusion in the finals.
The two-day event played to a capacity crowd of 20,000 spectators at the Barclays Center arena in Brooklyn. More than 300,000 more fans watched the concluding minutes live via Twitch.
While the event was a success for the game's publisher, Blizzard, it faces competition of its own from Fortnite.
Both games feature cartoon-like characters, bloodless combat and a wide variety of in-game costumes as part of efforts to have a wide appeal.
While Blizzard was first to launch a professional league modelled on American Football's NFL competition, Fortnite's maker has ambitions of its own.
In March, Epic announced a $100m (£76.2m) prize fund to support tournaments centred on its last-player-standing Battle Royale mode and it recently launched a Summer Skirmish competition for top players.
Overwatch shootout
Twelve teams – each belonging to a city-based franchise – took part in the inaugural Overwatch League championship.
The final took place over Friday and Saturday. It required the winner to come out on top over three sets of battlefield face-offs, each of which involved winning a best-of-five series of games.
In the event, only two sets were required, after London Spitfire won the first series 3-1 and then the second 3-0.
The team had struggled earlier in the season but looked relatively relaxed as they dominated its conclusion.
Its members will now share the $1m prize.
Jun-Young "Profit" Park – who played on Saturday as the archer Hanzo – took the "most valuable player" (MVP) award. In one game, he had managed to kill Philadelphia Fusion's complete team, using his special attack, which involved one of his arrows turning into dragons.
"[It's an] indescribable feeling," the 18-year-old said, when asked about how it felt to receive the honour.
The team's owner – Cloud9 chief executive Jack Etienne – subsequently announced a plan to bring his players to London in October to meet their home crowd.
There had, however, been one British player on the stage at the weekend, in the opposing team: Isaac "Boombox" Charles.
"One thing I've learned from this season is that it's really important to build synergy with your teammates, and friendship," the 21-year-old former Durham University student said.
"I feel like we got to a stage – even though we lost – where we are all happy."
---
A brief introduction to Overwatch
The first-person shooter features about two dozen characters who engage in team-based battles set across a near-future Earth.
Each character has a distinct personality – including a genetically engineered scientist ape, a cowboy-styled bounty hunter and a nerdy-looking climatologist – and unique abilities.
The heroes divide into four broad categories:
offence – fast-moving characters that can inflict a lot of damage quickly
defence – warriors best suited to guarding key parts of the battlefield and repelling attacks
tank – fighters that can sustain a lot of damage and are therefore well-suited to leading attacks
support – champions that help other players heal and access their most powerful attack modes more quickly than normal
Squads of six characters are pitched against each other in a range of challenges, including protecting/capturing a location; defending/destroying a vehicle as it is driven across a zone; and being first to wipe out the enemy team.
---
New teams from Paris, Atlanta and Guangzhou will join the existing roster in season two of the Overwatch League. The launch date has still to be confirmed but is likely to be early 2019.
By that point, Epic hopes to have established Fortnite as a rival e-sports extravaganza.
Its efforts have got off to a rocky start.
One news site described a recent event as an "unmitigated disaster" with both technical issues and frustrating-to-watch action.
However, Epic tweaked the format in response and appears to have addressed the main problems.
Fortnite's advantage is that it is the most played game of the moment. In June, its developer claimed 125 million gamers.
By contrast, in May, Blizzard said Overwatch had more than 40 million players.
Even so, one expert said that, at least in the near-term, Blizzard had advantages.
"Overwatch League is a lot further down the line in terms of putting together a professionally produced, glitzy tournament," said Ed Barton, chief entertainment analyst at the consultancy Ovum.
"The team owners are also heavily financially committed, having had to put up something like $20m each to buy a franchise.
"It will take Fortnite time to become prevalent at that kind of professional level.
"But if and when it does, then Overwatch – and other games like League of Legends – should be worried."
Overwatch League: London Spitfire triumph in first final