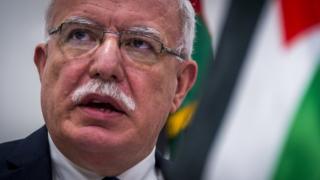 The Palestinians have asked prosecutors at the International Criminal Court to launch a full investigation into alleged Israeli human rights abuses.
Foreign Minister Riad Malki submitted a so-called "referral", which he said detailed evidence of crimes committed on occupied Palestinian territory.
He is hoping to persuade the ICC to move beyond a preliminary examination which prosecutors started in 2015.
Israel dismissed Mr Malki's move as a "cynical step without legal validity".
Mr Malki's submission to ICC chief prosecutor Fatou Bensouda came after more than 100 Palestinians were killed and 10,000 injured by Israeli troops during six weeks of protests along the border between the Gaza Strip and Israel.
Palestinian President Mahmoud Abbas accused Israel of carrying out "massacres" of unarmed civilians. But Israel's Prime Minister Benjamin Netanyahu insisted its troops acted in self-defence and blamed the militant group Hamas, which orchestrated the protests, for the deaths.
Following his meeting with Ms Bensouda in The Hague on Tuesday, Mr Maliki said the Palestinians wanted her to "open without delay an investigation into all crimes" allegedly committed in occupied East Jerusalem, the West Bank and Gaza since June 2014.
"We believe there is ample and insurmountable evidence to that effect and we believe that proceeding with an investigation is the right and needed course of action," he told reporters.
"Further delaying justice for Palestinian victims is also tantamount to denial of justice," he added.
Ms Bensouda has previously noted that a preliminary examination is not a formal investigation, but a process of examining the information available in order to reach a fully informed determination on whether to proceed with an investigation.
However, she warned all parties last week that her office was "vigilantly following developments on the ground" in Gaza and "recording any alleged crime that could fall within" the ICC's jurisdiction.
Alex Whiting, a professor at Harvard Law School and former ICC prosecutor, said the Palestinian referral would have a "real effect". While it would not force Ms Bensouda to begin an investigation, it would make it much harder to stay in the preliminary examination phase, he explained on Twitter.
Analysis
By Anna Holligan, BBC News, The Hague
The Palestinian foreign minister told a room full of reporters it was "a test the ICC cannot afford to fail", and said "the State of Palestine is seeking justice and redress, not revenge".
While the situation has been subject to what is called a preliminary examination by the prosecutor for years, there has been speculation the latest escalation will compel Fatou Bensouda to intensify her efforts by launching an official investigation. However, it is arguably the most complex case file – both legally and politically speaking – that has ever crossed her desk.
If Ms Bensouda does decide there are sufficient grounds to investigate, all sides would be subject to scrutiny and any future prosecution would be driven by the evidence rather than political pressure. And it is far from inevitable.
The ICC has the authority to prosecute those accused of genocide, crimes against humanity, war crimes on the territory of states party to the Rome Statute, its founding treaty.
Israel has never ratified the Rome Statute but the UN secretary general accepted the accession of the "State of Palestine" in 2015. In theory, that means Israelis could be tried by the ICC for alleged crimes committed on occupied territory.
The Israeli foreign ministry said the Palestinian referral was legally invalid and insisted the ICC lacked jurisdiction over the Israeli-Palestinian issue, "since Israel is not a member of the court and because the Palestinian Authority is not a state".
"The Palestinians continue to exploit the court for political purposes, rather than work towards resuming the peace process with Israel," a statement said.
"It is absurd that the Palestinian actions vis-à-vis the court come at a time when the Palestinians continue to incite to acts of terrorism," it added.
The ministry also insisted Israel had acted in accordance with international law.
Palestinians demand full ICC investigation into 'Israeli war crimes'}