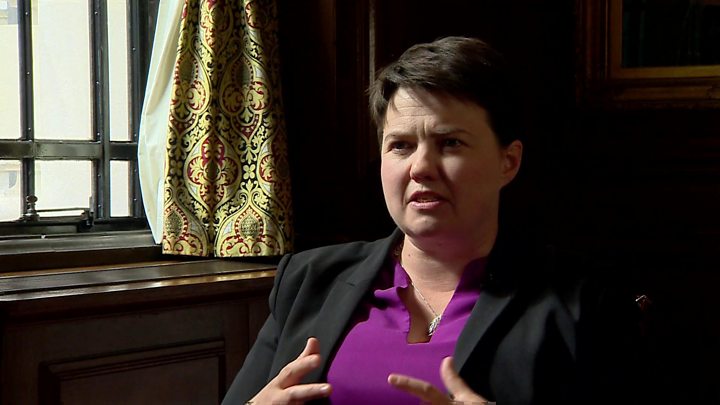 Scottish Conservative leader Ruth Davidson says she was "hurt" and "angry" when she saw the Windrush scandal unfolding.
Ms Davidson criticised the "basic unfairness" of taking away part of the "identity" of those affected.
She also said the tone of the immigration debate had been "far too judgemental", calling for changes to current government policy.
She would "love" to see students taken out of migration figures, she added.
"I don't see what use they are being there," she said.
Prime Minister Theresa May has rejected repeated calls to take students out of the government's immigration figures.
Ms Davidson also said the overall target to bring net migration below 100,000 should be "reviewed".
The government has promised reforms to the UK's immigration regime once it is no longer tied to EU free movement rules after Brexit.
Speaking to BBC political editor Laura Kuenssberg, Ms Davidson said a "mature debate" was needed.
"I think there's lots of different questions that we can ask, but we need to do it in a way that is open and that is positive and is in a kind of non-judgemental way, and sometimes in the past it's been far too judgemental."
Windrush criticism
The government's immigration policies have been in the spotlight in recent weeks because of the Windrush scandal.
The Windrush migrants arrived between the late 1940s and 1973, mainly from the Caribbean, but some have been threatened with deportation in recent years. Many came to the UK legally as children but have no formal documentation, which has also led to them being refused jobs or healthcare.
Last week the government said 63 members of the generation could have been wrongly removed from the UK since 2002.
Ms Davidson said it was "simply not fair" to say to people who were told they were British that "this part of yourself, this part of your identity that you always thought was there, somehow it's been taken away, or it's being challenged".
At the weekend Ms Davidson urged her party to embrace young people's "open, liberal outlook" in order to expand the Tories' electoral appeal.
"A bolder narrative about the benefits of our free society and a bit more practical delivery is required if we're to show we want to speak to all, and act for all," she said.
Ruth Davidson 'angry' at Windrush scandal}