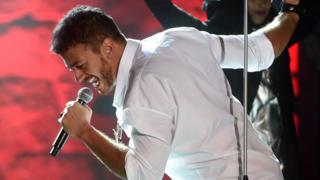 Moroccan singer Saad Lamjarred has been detained in southern France over new allegations of rape, officials say.
The alleged incident took place in a hotel in Saint-Tropez. No further details were given.
The 33-year-old is already on bail over an alleged rape case dating back to 2016 and was arrested in 2010 on suspicion of another assault.
Mr Lamjarred's 2015 hit Lmaallem has become the most-viewed song by an Arab artist on YouTube.
It has been seen more than 650 million times.
Prosecutors in the south-eastern city of Draguignan, near Saint-Tropez, told AFP news agency that the latest case was "complex" and involved two "radically opposed versions of events".
What happened in the previous cases?
Mr Lamjarred was first arrested on suspicion of beating and raping a woman in New York in 2010. He fled the US while on bail and has not returned since.
Six years later, he was accused of physically assaulting and raping a young French woman in a hotel in Paris. He was released on bail with an electronic tag in April 2017 awaiting trial.
Shortly before his release, French newspaper Le Parisien reported that a French-Moroccan woman had been physically assaulted by Mr Lamjarred in the Moroccan city of Casablanca two years earlier.
She said she reported the incident to the police but later withdrew the complaint under pressure from her family.
What has the reaction been?
Perhaps surprisingly in the age of #MeToo, previous cases against Mr Lamjarred have done little to damage his reputation among fans.
When the singer was arrested in 2016, the Moroccan king himself intervened to cover the singer's legal fees.
Many of Mr Lamjarred's fans maintain the singer was the victim of a "plot" by neighbouring Algeria, which has strained relations with Morocco.
Moroccan media even showed footage of small protests "in solidarity" with the singer during his detention.
The first song he released one year after the alleged incident – and dedicated to the king – showed just how popular he remained, gaining over 140m views.
What about the victims?
The victim of the alleged assault in Paris spoke out in November last year, when she uploaded a video on YouTube (in French), and detailed the abuse she had experienced online.
"My name is Laura Prioul, I'm 21 years old, and it has been one year since I was physically attacked, hit and raped.
"For the past year I've been hiding from the media, hiding from everyone, that everyone's been talking about me."
She recounted details of the alleged assault and described the death threats she received after her identity was revealed online.
"So many people were talking about me, insulting me, and no one supported me apart from my family and friends."
Mr Lamjarred has denied Laura Prioul's allegation of rape.
Saad Lamjarred: Moroccan singer faces third rape charge