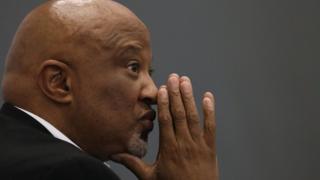 A South African politician has alleged that a controversial businessman threatened to kill him if he ever disclosed that he had been offered a bribe to become finance minister.
Mcebisi Jonas made the revelation at an inquiry into alleged corruption when ex-President Jacob Zuma was in office.
It is investigating if the wealthy Gupta family influenced political decisions, including naming ministers.
Ajay Gupta has denied that he ever meet Mr Jonas or offered him a bribe.
Accusations of graft dogged Mr Zuma's presidency before he was forced to step down in February.
Mr Jonas was deputy finance minister in 2015 when he says he was offered 600m rand ($41m; £32m) if he accepted the post of finance minister at a meeting at Mr Gupta's mansion in Johannesburg.
He alleges that Duduzane Zuma, the former president's son, was also present.
He says that had he accepted the deal, he would have had to use his position to advance the Guptas' extensive business interests – an example of what has become known in South Africa as "state capture".
While giving evidence to the commission of inquiry – set up on the recommendation of the public protector, South Africa's anti-graft watchdog – Mr Jonas explained how he had refused the alleged bribe offer.
"At the end of the meeting, Mr Gupta repeated that they had information on me and that if I suggested that the meeting had occurred, they would 'kill' me," he said.
Duduzane Zuma told the BBC in 2017 that there had been a meeting but no bribe was offered.
Analysis: Shock and anger
By Milton Nkosi, BBC Africa, Johannesburg
There was a collective gasp of shock at the inquiry when Mcebisi Jonas spoke of the death threat. His evidence has shocked the nation.
Allegations of corruption have swirled for many years now, but the suggestion that it may have morphed into some form of mafia operation leaves many bewildered and dismayed.
In many ways it is not just the Guptas and the Zumas under the spotlight here – both families deny any wrongdoing. It is the governing African National Congress (ANC), the party in power since the end of white-minority rule in 1994, that is coming under scrutiny.
When it was fighting for the freedom of black people, no-one could have foreseen the level of corruption that has affected it. It has left many South Africans embarrassed and angry.
Mr Jonas also said that Mr Gupta said then-President Zuma was at the bidding of the wealthy Indian-born family.
"He said: 'You must understand that we are in control of everything – the National Prosecuting Authority, the Hawks [an elite police unit], the National Intelligence Agency and the old man [Zuma] will do anything we tell him to do,'" he told the commission.
In December, South Africa's High Court ordered that the inquiry be set up in the wake of the public protector's report, called State of Capture, which found evidence of possible corruption at the top level of Mr Zuma's government.
The Zondo Commission, which started its hearings this week, does not have power to prosecute but it can compel people to give evidence.
Any evidence it collects can be used in any future prosecutions, though it could take up to two years to release its findings.
South Africa's Times Live paper has published Mr Jonas's 20-page statement in full, which he read out to judges.
South Africa Zuma inquiry: Gupta 'threatened to kill' over bribe offer