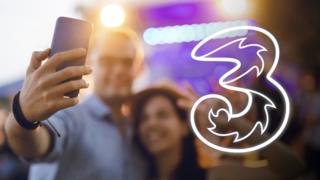 Mobile network Three has acknowledged "technical difficulties with voice, text and data" that left many customers unable to use their devices.
The problems appear to have started on Wednesday evening, according to the Down Detector website.
On Thursday afternoon, the company said it had managed to restore service for a "majority" of its subscribers.
Three apologised for the problem and said it was "sorting this out right now".
On Thursday afternoon it said: "For the majority of customers, the network has been restored so they can make calls, send texts and use data. We are aware that some customers are still experiencing issues and our engineers are continuing to work to fix this.
"We advise our customers to turn their phones off and on or turn airplane mode on and off, which may resolve the issue," it said in a statement.
Three has about 10 million customers in the UK.
ID Mobile, a virtual network that uses Three's infrastructure, was also affected.
The problems, which were nationwide, started after some maintenance work on Three's network infrastructure.
On Wednesday, rival network O2 switched on its next-generation 5G service in a number of UK cities.
Three tagged O2 in a tweet saying: "Oi, did you unplug our network so you could plug in your 5G? not cool guys."
One customer said the joke would have been "cute" if the problems had not been ongoing for more than nine hours.
So many customers tried to access the status checker on Three's website that it was temporarily unavailable on Thursday morning.
A queuing system was switched on, to limit access to the tool.
"History shows that once service is restored people quickly forget about the issues," said Ben Wood, an analyst at the CCS Insight consultancy.
"The challenge for Three UK will be getting its network back online reliably. Often it can take time for things to stabilise after such a massive outage, which can lead to intermittent service for a period of time after the original problems."
---
Three phone services restored 'for majority'