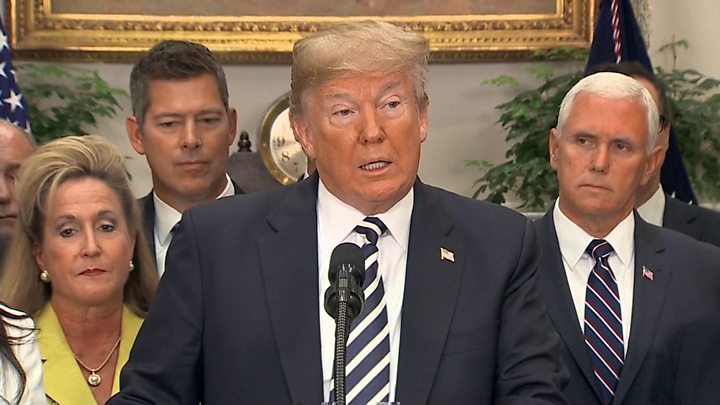 US President Donald Trump has cancelled a summit with North Korean leader Kim Jong-un, blaming "tremendous anger and open hostility" from the North.
He said it was possible a meeting could still take place but warned North Korea against committing "foolish" acts.
The summit aimed to rid the Korean peninsula of nuclear weapons and would have been the first time a sitting US president met a North Korean leader.
But doubts had emerged on both sides whether the talks would take place.
Mr Trump's announcement marks a fresh twist in the turbulent relationship between him and Mr Kim.
Last year saw the two exchange lurid insults. This year though has seen warmer relations, including the release of three US detainees in North Korea.
The move came just hours after North Korea said it had dismantled tunnels at its only nuclear test site in a move witnessed by foreign reporters.
---
Diplomacy in disarray
Analysis by Jonathan Marcus, BBC diplomatic correspondent
The Trump administration insists that North Korea was not responding sufficiently in the summit preparations, raising doubts that the meeting would be able to achieve a positive outcome.
The big question is what happens now?
Prior to the thaw in relations between North and South Korea that began the process that led to the summit date, wild rhetoric was being exchanged between Pyongyang and Washington raising serious fears of a renewed conflict on the Korean Peninsula.
Will North Korea now resume its long-range ballistic missile testing? Will the war of words be renewed? Or might there be a slim chance of some kind of diplomatic process being maintained?
And finally, can relations between North and South Korea be insulated in any way from the growing tensions between Pyongyang and Washington?
---
What did Mr Trump say?
Mr Trump said he had been looking forward to the now-cancelled summit in Singapore on 12 June.
"I was very much looking forward to being there with you. Sadly, based on the tremendous anger and open hostility displayed in your most recent statement, I feel it is inappropriate, at this time, to have the long-planned meeting," Mr Trump said in a letter to Mr Kim.
"You talk about your nuclear capabilities, but ours are so massive and powerful that I pray to God they will never have to be used," he added.
But he called the meeting a "missed opportunity", saying "someday, I look very much forward to meeting you".
In a later statement at the White House, Mr Trump said the step was a "tremendous setback for North Korea and the world", adding the US military was "ready if necessary" to respond to any "reckless" act from North Korea.
What was he referring to?
Mr Trump was apparently responding to statements from North Korea attacking his administration and casting doubt over the meeting.
Earlier on Thursday, North Korean official Choe Son-hui dismissed remarks by US Vice-President Mike Pence – who had said North Korea "may end like Libya" – as "stupid".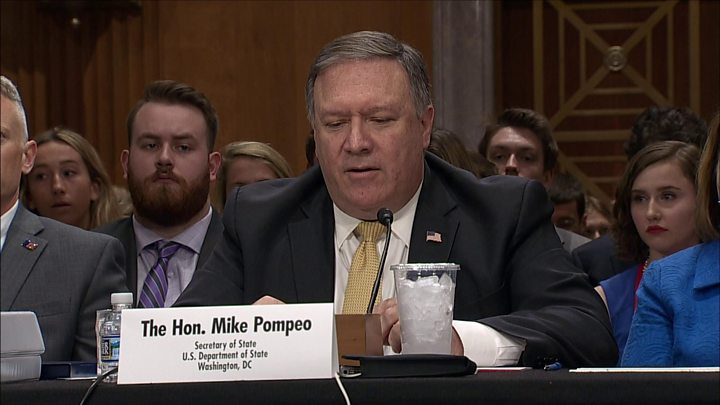 Ms Choe, who has been involved in several diplomatic interactions with the US over the past decade, said the North would not "beg" for dialogue and warned of a "nuclear showdown" if diplomacy failed.
A White House official quoted by Reuters described the comments about Mr Pence as the "last straw". They stressed, however, there was a "backdoor that's open still".
References to Libya have angered North Korea. There, former leader Colonel Gaddafi gave up his nuclear programme only for him to be killed by Western-backed rebels a few years later.
What's the reaction been?
South Korean President Moon Jae-in said "I am very perplexed and it is very regrettable that the North Korea-US summit will not be held", the Yonhap agency reported.
This year has seen improving ties between North and South Korea, with the leaders of both holding a summit just last month.
UN Secretary General Antonio Guterres said the US and North Korea should not give up, saying "nerves of steel" were required.
In the US, Republican Senator Tom Cotton praised President Trump for "seeing through Kim Jong-un's fraud". But Democratic Senator Brian Schatz said the move was what happened "when amateurs are combined with warmongers".
Trump cancels Kim summit amid North Korea 'hostility'