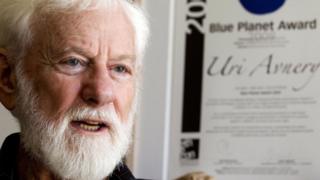 The Israeli journalist and peace activist Uri Avnery has died at the age of 94, days after suffering a stroke.
Avnery, who pushed for the creation of a Palestinian state, stoked controversy by meeting the late Palestinian leader Yasser Arafat in the early 1980s.
He also founded an influential left-wing magazine and served as an MP.
President Reuven Rivlin, a member of the right-wing Likud party, praised his "ambition to build a strong and free society" despite their "differences".
Opposition leader Tzipi Livni, of the centre-left Zionist Union, called Avnery a "rare, trailblazing man", who "planted in the heart of Israelis ideas of peace and moderation, even when they weren't in the lexicon".
Gush Shalom, the peace group he founded in 1993, said that "in the history of the State of Israel, Uri Avnery will be inscribed as a far-seeing visionary who pointed to a way which others failed to see".
Avnery's life spanned the creation of the State of Israel and the conflicts that followed.
Avnery fled Nazi Germany as a child with his parents in 1933 and emigrated to what was then British Mandate Palestine.
At the age of 15 he joined the militant Zionist group Irgun, and he was seriously wounded while fighting for the Israeli army's Givati Brigade in the Arab-Israeli war that followed Israel's declaration of independence in 1948.
In 1982, he became the first Israeli to formally meet Arafat, crossing enemy lines to interview the Palestine Liberation Organisation (PLO) leader during the Israeli military's siege of Beirut.
In an interview with the BBC earlier this year, Avnery said the journey to the encounter with his country's sworn enemy was "a bit dangerous". He was picked up in an armoured car before "zigging and zagging" through Beirut to a PLO house.
"We talked about peace of course, peace between Israel and the state of Palestine," he said.
An Israeli journalist recently reported that an Israeli commando unit tasked with assassinating Arafat had tried to track Avnery to the meeting place and had discussed targeting it, despite the risk of killing the journalist. However, the commander of the unit has denied planning such an operation.
Avnery said the interview with Arafat created the idea for the Israeli public that there could be peace with the Palestinians – even though he was labelled a traitor by his many critics.
The BBC's Tom Bateman in Jerusalem says Avnery will be remembered as a controversial figure – anti-establishment and subversive, but dedicated to reaching a peaceful settlement in the Middle East.
Uri Avnery: Veteran Israeli peace activist who met Arafat dies}