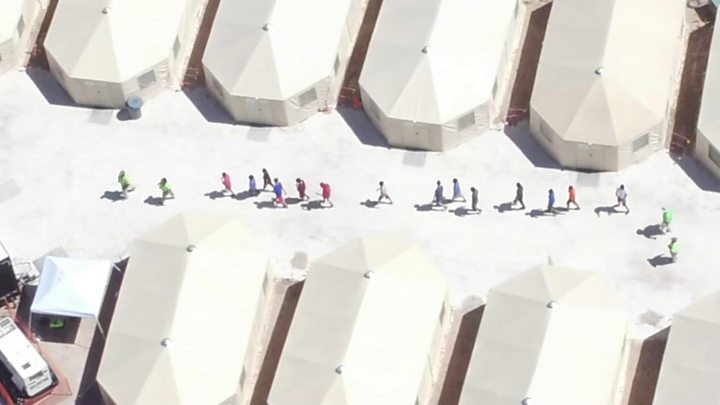 The US Navy is reportedly planning to build sprawling immigrant detention centres on military bases, amid a Trump crackdown at the US-Mexico border.
A draft memo obtained by Time magazine outlines plans to build "austere" tent camps to house 25,000 migrants.
The memo says the camps would be built on abandoned airfields in California, Alabama, and Arizona.
Another camp near San Francisco is being designed for as many as 47,000 people, the memo says.
A Pentagon spokesman said the military had not been asked by the Department for Homeland Security (DHS) to draw up the specific plans, but was engaging in "prudent planning… should the DHS ask for assistance in housing adult illegal immigrants".
The US military said on Thursday it had been asked by the government to get ready to house up to 20,000 immigrant children.
The Navy memo estimates the force would spend $233 million (£175m) to run a facility for 25,000 people for six-months.
The memo gives a sense of the knock-on effect of a "zero tolerance" immigration policy being pursued by the Trump administration, in an effort to deter migrants from Central and South America from attempting to cross into the US.
A decision by the administration to criminally prosecute every migrant crossing the US-Mexico border led to some 2,300 children being separated from their parents in May and June, and sparked a global wave of outrage.
President Donald Trump eventually backed down in the face of overwhelming public pressure and signed an order to halt the family separations, but he insisted he remained committed to his "zero tolerance" policy.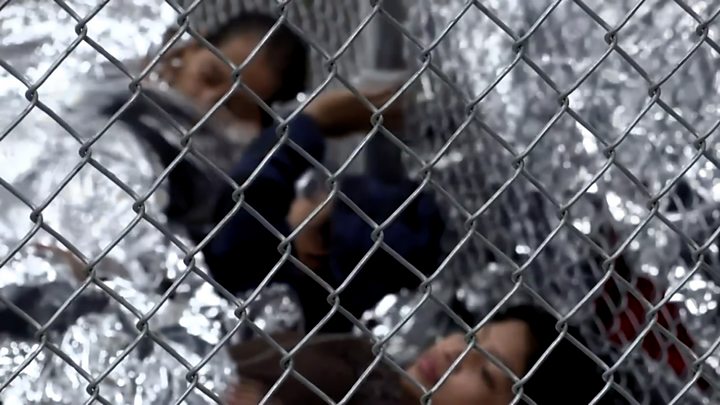 "We must maintain a Strong Southern Border. We cannot allow our Country to be overrun by illegal immigrants as the Democrats tell their phony stories of sadness and grief, hoping it will help them in the elections," he tweeted.
The sudden surge in immigrant detentions created by Mr Trump's policy has strained various government departments, including Justice, Homeland Security, Defence and Health and Human Services.
Migrant children taken from their parents are being held in facilities run by the Department of Health and Human Services. Images from one facility in a converted Walmart sparked outrage earlier this week, when they showed children held in wire mesh cages, sleeping on mats with foil blankets.
A DHS official said on Thursday that about 500 children had been reunited with their families since separations began in May, but rights groups remain concern that there is not adequate information to return many young children to their parents.
On Friday Mr Trump brought the parents of victims of murders by undocumented immigrants to the White House, where he signed photographs of their late children and invited them to tell their stories.
US military plans migrant tent camps amid Trump crackdown