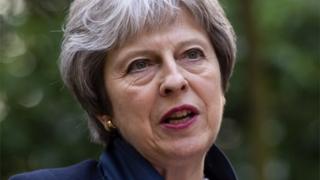 Prime Minister Theresa May has said she is disappointed by the US's "unjustified decision" to slap tariffs on EU steel and aluminium.
The tariffs of 25% on steel and 10% on aluminium, which affect the EU, Canada and Mexico, came into effect on Friday.
All three are planning retaliatory moves.
Mrs May said the EU and UK should be exempted and would work together to "protect and safeguard our workers and industries".
UK Steel said the tariffs, which apply to a wide range of steel and aluminium products such as sheets, plates, bars, pipes and "semi-finished" products, will damage not only the UK steel sector but also the US economy.
It comes just as the sector is recovering from the 2016 steel crisis caused by oversupply and slack demand.
About 31,000 people across the UK work in steel production and many more in the supply chain. There are steel mills in the North East, East Midlands, Yorkshire, and Wales.
In a statement on Friday, Mrs May said: "I am deeply disappointed at the unjustified decision by the US to apply tariffs to EU steel and aluminium imports.
"The US, EU and UK are close allies and have always promoted values of open and fair trade across the world.
"Our steel and aluminium industries are hugely important to the UK, but they also contribute to US industry including in defence projects which bolster US national security.
"The EU and UK should be permanently exempted from tariffs and we will continue to work together to protect and safeguard our workers and industries."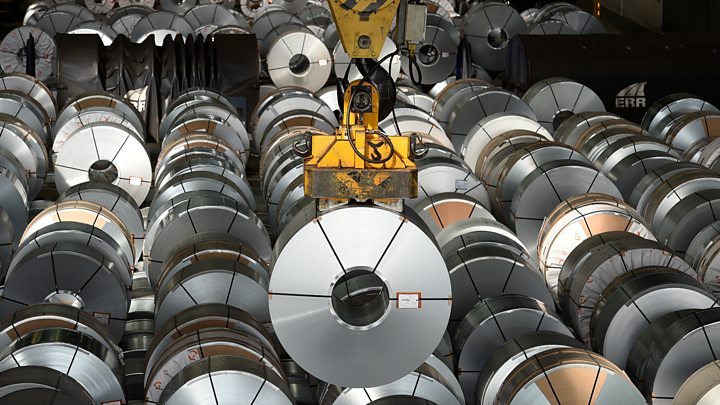 UK International Trade Secretary Liam Fox, who is hoping to strike a post-Brexit trade deal with the US, said it was "very unfortunate if we get into this tit-for-tat position, especially with one of our closest allies" adding: "Nobody wins in a trade war, there are only casualties."
President Trump justified the move on national security grounds by arguing that global oversupply of steel and aluminium, driven by China, threatened American steel and aluminium producers.
Earlier Labour's shadow international trade secretary said the decision had been "based on a lie" and was simply an act of economic protectionism.
Barry Gardiner said Europe needed to show it would not be "cowed" and should pursue "proportionate" action through the World Trade Organisation.
"We believe in a multilateral rules-based system," he told BBC Radio 4's Today programme. "President Trump does not. He wants to break up that system.
"We have to see this as part of a pattern of behaviour and respond strongly to it and make clear to him we are not susceptible to the intimidation, threats and bullying that he is putting in place."
Leaders from other affected nations reacted furiously, setting out tariffs on the US, ranging from steel to sleeping bags and ballpoint pens.
According to UK Steel – the body which represents steel producers across the country – 7% of steel exports, worth £360m, go to the US.
Tata Steel, which employs 8,500 people across the UK, including 7,000 in Wales, has called for "swift and robust action" in response to the steel tariffs.
UK exports of aluminium to the US are tiny, but in March the UK's Aluminium Federation said it was concerned about the impact 10% tariffs could have.
US trade tariffs: May disappointed at 'unjustified' move}