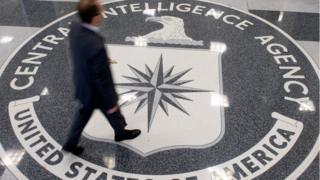 A former CIA software engineer is the prime suspect in the leaking of a stolen archive of spy agency's secrets last year, US media have revealed.
However after searching his home, prosecutors charged Joshua Schulte, 29, with having 10,000 child abuse images.
He denies the charges and remains suspected of leaking extensive CIA data to anti-secrecy website Wikileaks.
In March 2017, Wikileaks published thousands of documents detailing the spy agency's cyber-warfare programme.
Mr Schulte designed malware used to break into terrorism suspects' and other targets' computers for the CIA for six years. He quit the spy agency in 2016 to work in the private sector.
The 2017 breach, codenamed Vault 7, details how the CIA can take over iPhones through malware and turn smart TVs into surveillance devices and is believed to be the agency's largest leak of classified documents.
US federal agencies launched a criminal investigation at the time and, according to US media, the software engineer's home in New York City was searched within a week.
Agents suspected Mr Schulte of distributing "national defence information" and told a court they had retrieved "NSA and CIA paperwork", as well as electronic devices including a computer, tablet and phone, the New York Times reports.
However six months later in August, instead of charging him for the Vault 7 leak, US prosecutors indicted him on unrelated child pornography charges.
They allege messages sent by Mr Schulte suggest he was aware of illicit pictures being hosted on a server he created as a business while a university student in 2009.
The software engineer, who denies the charges, is currently being held in a Manhattan jail after violating his bail terms.
Mr Schulte's family lawyers have made repeated demands for prosecutors to either indict or clear their client of the Vault 7 allegations.
A US prosecutor said in January the investigation was still continuing and that Mr Schulte remained "a target of that investigation", the Washington Post reports, quoting court documents.
Last week, prosecutors said in court they planned to file a new indictment in the next 45 days, while his lawyer asked the judge to impose a deadline on any espionage-related charges.
Both the CIA and the US justice department are yet to comment.
Vault 7 inquiry: CIA data leak suspect named by media