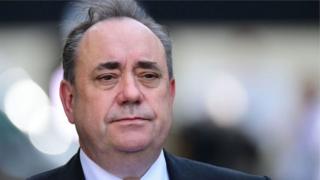 The Scottish government has confirmed there were no recorded complaints about former First Minister Alex Salmond's behaviour before January.
The detail emerged as opposition parties called for "full transparency" over the investigation of sexual harassment claims against him.
Two civil servants lodged complaints in January about Mr Salmond's behaviour in 2013 while he was first minister.
Mr Salmond has strongly denied any claims of harassment or criminality.
He also accused someone in the Scottish government of "sustained leaking" of the "most unfair kind".
He said it was "crucial" to find out who in government was responsible.
It emerged on Thursday that Mr Salmond has been under investigation since January this year when allegations were made relating to his time in office as first minister, which ended in September 2014.
Tory equalities spokeswoman Annie Wells earlier wrote to Scottish government permanent secretary Leslie Evans seeking to clarify whether complaints had been raised against Mr Salmond before the beginning of the year.
A Scottish government spokesman said: "It is important to remember that two complaints have been made that could not be ignored or swept under the carpet no matter the identity of the individual involved.
"This process has been under way within the Scottish government for eight months and has been entirely confidential throughout that period."
He added: "There are no recorded complaints about Alex Salmond prior to January 2018.
"For legal reasons we are unable to provide further detail at this time.
"However, in the fullness of time the Scottish government will seek to make available as much information as it can."
Mr Salmond has criticised the Scottish government's complaints procedure and is challenging its procedures in court.
First Minister Nicola Sturgeon said she had known about the allegations since April and was first informed by Mr Salmond himself.
She said she had not intervened in the process, which is being conducted by Ms Evans, the Scottish government's top civil servant.
Labour has submitted a freedom of information request for minutes of meetings between the Ms Sturgeon, and her predecessor while the investigation was under way.
The SNP leader said the complaints were being investigated by the Scottish government – and had not been shared with her party.
'Legal constraints'
She said: "Obviously, the Scottish government is extremely restricted in what it can say right now because we have legal constraints and legal reasons associated with potential legal proceedings.
"But one thing I would say is that this issue, as we now know, has been under investigation within the Scottish government for eight months and it has been treated entirely confidentially and it's important that continues to be the case."
Labour's Rhoda Grant said: "Members of the public understand that the government will be restricted in some regards due to Mr Salmond's legal action against them, but basic details surrounding these meetings should be released to them.
"The allegations against Alex Salmond are incredibly serious. His meetings with the head of a government that was investigating him must not be kept under wraps."
No Salmond complaints before January, says government}