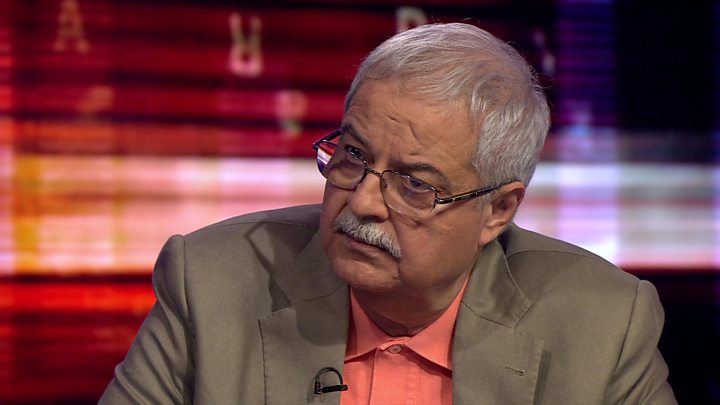 A BBC interview with the boss of Pakistan's leading English-language newspaper has stirred controversy a week before national elections.
Hameed Haroon, CEO of the Dawn Media Group, accused the security establishment of interfering in politics, including in favour of former cricketer Imran Khan and his PTI party.
But the HARDtalk interview prompted claims that Mr Haroon and his newspaper were biased in favour of ex-PM and rival to Mr Khan, Nawaz Sharif. Others criticised his lack of evidence against the military.
Dawn is among newspapers that have faced censorship and intimidation ahead of the 25 July vote.
The lead-up to the polls has been blighted by violence and political controversy.
In the interview broadcast on Monday, Mr Haroon, who is also president of the All Pakistan Newspapers Society, accused the powerful military of an "unprecedented assault" on the freedom of the press.
He told HARDtalk host Stephen Sackur that the "deep state" appeared to be working in favour of its preferred candidates – a charge that has been widely echoed by other political observers ahead of the polls.
The army has frequently intervened in Pakistani politics since independence in 1947, and the country has alternated between periods of civilian and military rule. It denies any involvement in next week's election.
"I think that at this point, there appears to be an attempt to favour second-level string leaders and a patch-up coalition which would rule with direction from the deep state," Mr Haroon said.
When asked if he meant Imran Khan and his PTI party, he said: "There are times that Imran's index goes up with the security state and at times other people in his party are named."
When pressed on what evidence he had, Mr Haroon responded: "I think that evidence today in Pakistan must to a certain extent be looked at through inference, through the work of human rights organisations, through the works of political commentators.
"I'm not actually making a case against the state, I'm making a case for the state to conciliate itself with the media, and try to keep the normal institutions of democracy going."
Not easy to find evidence of military meddling
Analysis by M Ilyas Khan in Islamabad
It's rare for civilians to stand up to the military, which in recent years has extended its influence to nearly all state institutions. Critics say it can turn revenue taps on and off for media houses and other businesses at will. They say this happens without any public statement or record, so if one is looking for irrefutable proof of military meddling, they would be disappointed.
But what do you do when an anonymous caller introducing himself as an ISI colonel or brigadier tells a cable service operator to move a channel from number 2 on its channel list to, say, number 15, and the bidding is done despite the media regulator denying having issued such a directive?
DawnNews channel has recently been moved by Islamabad's main cable network, Nayatel, from channel number 9 to number 28. Initially I thought it had been blocked. I found it at its new position several days later. An ordinary viewer would not have bothered looking for it once it was lost. This means the channel loses viewership, and ultimately advertising revenue.
Although Dawn has fewer resources than some of Pakistan's other media groups, it has stood up to the military and continues to refuse to compromise its editorial policy.
Press freedom advocates and many journalists will argue that Hamid Haroon said what he had to say and if anyone is looking for proof in black and white, they should try to run a media house in Pakistan.
Imran Khan responded on Twitter by saying the interview had exposed "the blatant bias of Dawn" against his party.
Others said that Mr Haroon should have had stronger evidence to back up his allegations against the military.
"Such utter disappointment #HameedHaroon," one reader wrote. "Been a #Dawn loyal since I was a kid. HH narrative a 100% match with NS's [Nawaz Sharif's] narrative, attempts to make #Election2017 in #Pakistan controversial with 0 proof."
Some journalists and social media users, however, came out to defend Dawn, saying Mr Haroon was put in a difficult position.
Elsewhere in the interview Mr Haroon said that the distribution of Dawn and other newspapers had been blocked in certain parts of the country and that many journalists were being forced to impose "self-censorship".
When Stephen Sackur suggested that Dawn is seen by many as supportive of Nawaz Sharif – a three-term PM who was jailed upon his return to Pakistan last week after being given a 10-year sentence by an anti-corruption court – Mr Haroon said there was an orchestrated campaign against Dawn.
Pakistani intelligence, he said, was "going after anybody that they feel stands in their way".
He added: "I think basically there's a civil-military narrative which went wrong and Dawn was the messenger. And a large part of that is shooting the messenger."
Pakistan election: BBC interview with Dawn newspaper boss stirs controversy}